Our dogs LOVE going to Doolittle's! Best kennel we've ever used, thanks to Lyell (owner) and her wonderful facility – huge amount of land for running, playing, resting, exploring. Plus a pond and a stream, comfy dog/people furniture and runs with heating/AC. Socializing too, if your dog likes to play with other dogs; if not, more secluded runs are also available. Lyell provides personalized loving care to each dog, and she gets to know them well. A doggy heaven!
Houston & Laura Barr Sorenson
Schwanz & Bon Ami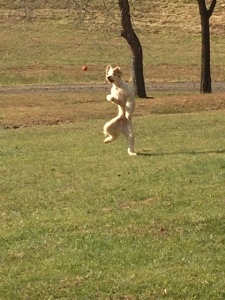 Mom and Dad's bags are packed, and mine too! Oh boy, fun, games and lots of goofy days with Lyle at Doolittle's! A dog's life doesn't get any better than that! Hope to see you there. Redford
 Tom & Margret Bomar and of course, Redford
I've been boarding my dogs with Lyell from day one and can always count on my dogs having fun, being well cared for and safe. When we drive up to leave them, they are excited and ready to play! I love the large lots the dogs have to play in and the fact there isn't a lot of concrete to wear out my dogs' pads and tire out their legs. They can play with other dogs, go swimming in a safe area, or just relax in their kennel. Even after a long stay, my dogs are healthy and happy when we pick them up.
Definitely a camp for dogs!
Helene Dodge
Operational Dog Handler
State of Virginia
Lyell has taken care of two sets of my dogs – the geriatrics and the new young ones which includes a rescue. The quality of the care is great and the dogs enjoy the stay.  Max runs to see Lyell when he gets out of the car.  They can have quiet time if needed and she monitors them closely for behavior and health. She has an excellent read on the "pack" during play time. I have used the dog day care to properly socialize my puppy. I would recommend Lyell's facility highly for a natural play experience and an overnight(s) stay. I never have to worry when they are at Doolittles under Lyell's watchful eye.  Carolyn Maki
Pop is an extremely social dog, and he didn't do very well boarding at the vet's. He's the kind of dog who loves to play with other dogs, and he also loves his people. Now, he definitely considers Lyell one of his best peeps! At Lyell's, I know he gets affection, is well-cared for, and is having a great time, which allows me to feel more at ease when I'm away. I really like the way the kennels are set up, so that Pop has his own warm and cozy room at night and can go in and out as he pleases, but is able to be with his doggie friends during the day. I'm so glad we found Doolittle's. I have recommended it to several friends.
Monica Dean, Amherst, VA